Cosmetic Dentistry – Alexandria, IN
Make Your Smile Dreams
Come True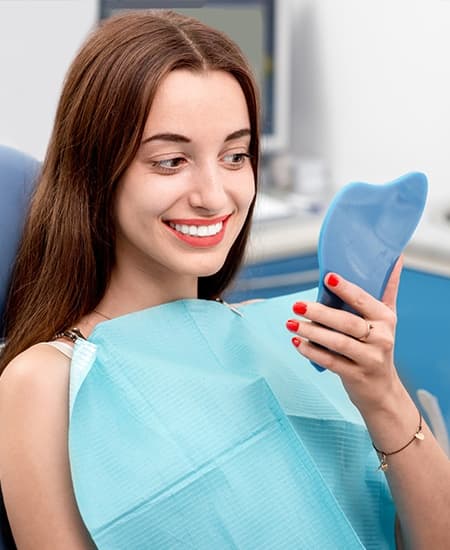 Oral health is the number one priority at Martinez Dentistry, but just because you have positive oral health doesn't necessarily mean you feel comfortable showing off your smile. If you find yourself covering your mouth often, it can be a burden on your self-confidence. With the help of advanced and comprehensive cosmetic dentistry in Alexandria, IN, including porcelain veneers, teeth whitening, and even Botox®, you can restore your confidence and smile wider than ever before. To start planning your next makeover, give our dental office a call!
Why Choose Martinez Dentistry for Cosmetic Dental Treatments?
Clear Aligner Technology for Easier Orthodontics Available
Digital Imaging/Virtual Smile Design Provided
Metal-Free and Long-Lasting Dental Ceramics Utilized
Porcelain Veneers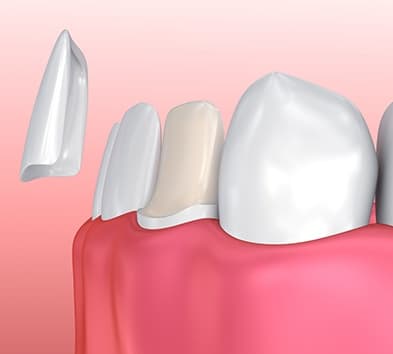 Transforming your smile doesn't have to be a long and drawn-out process. One of the most effective solutions to hiding multiple imperfections at a time is with porcelain veneers. By placing ultra-thin sheaths of dental ceramics over existing teeth, you can hide cracks, gaps, chips, permanent discoloration, and even slight rotations in teeth, making your smile free of blemishes and more uniform overall. Each veneer is customized to match your smile's existing shade, so there's no worry about whether or not your veneers will look natural after they're placed.
Learn More
Metal-Free Dental Restorations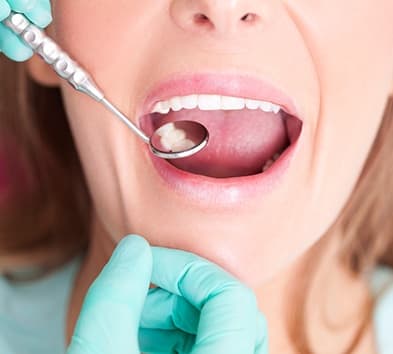 In order to make your restored smile look natural, Dr. Martinez uses materials that both naturally blend in with your existing smile and look as much like tooth enamel as possible. That's why our dental office utilizes Zirconia, a type of dental material that is durable, long-lasting, and incredibly natural-looking. Whether you need a series of porcelain veneers to hide chips and cracks or you need a dental crown to restore a damaged tooth, we make sure to provide materials that blend in, not stand out like a sore thumb.
Dental Bonding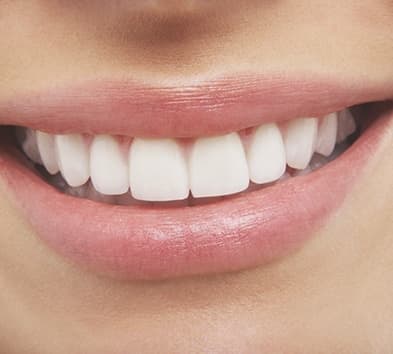 Do you have minor imperfections in your smile that seem impossible to ignore? Just because you have minor damage in your individual teeth doesn't mean you need an entire row of porcelain veneers. Direct bonding offers a fast and affordable solution to hide cracks, chips, gaps, and discoloration in teeth. With composite resin, the same material we use to restore teeth damaged by cavities, we can shape, mold and cure the resin on top of imperfections, effectively transforming your smile.
In-Practice Teeth Whitening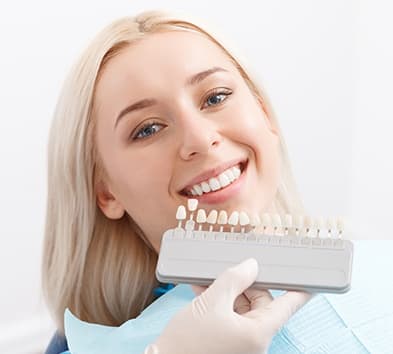 The advanced whitening solutions that you get at Martinez Dentistry are nothing like what you'd find in the pharmacy or grocery store. With Zoom! in-office whitening, you can brighten your smile several shades in just one hour. After gently applying the bleaching gels to your teeth, we'll use a heat lamp to activate the gel over the next 30 to 45 minutes, depending on how much whitening you need. After your whitening, we'll discuss how you can maintain your brighter smile for as long as possible.
Learn More About Teeth Whitening
At-Home Teeth Whitening
We understand that many patients would prefer to whiten their smile on their own time. Take-home whitening kits from Opalescence make this process easy and straightforward, without sacrificing quality. Each whitening tray is custom-made to fit your smile exactly, preventing oxygen from reaching the residual bleaching gel. To whiten your smile, simply fill each tray with the bleaching gel and wear the trays for a set period of time every day for the next two weeks. By the end of your treatment, you'll have a smile that is just as white as what you'd receive in the dental office.
Learn More About At-Home Teeth Whitening
Gum Recontouring/Crown Lengthening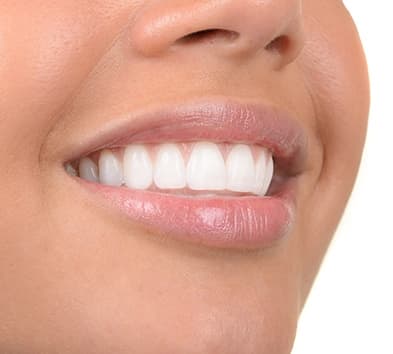 For some patients, it's not their teeth that necessarily need a cosmetic boost, but the gum tissue surrounding them. If you have what some patients refer to as a "gummy" smile, gum recontouring may be the cosmetic treatment you need. Using our advanced soft tissue laser, we can remove excess gum tissue and make your teeth more visible. Furthermore, if your gum line is uneven, we can effectively reshape your gums as well. By using laser technology, we can reduce the amount of time needed for the gums to heal.
Digital Imaging/Virtual Smile Design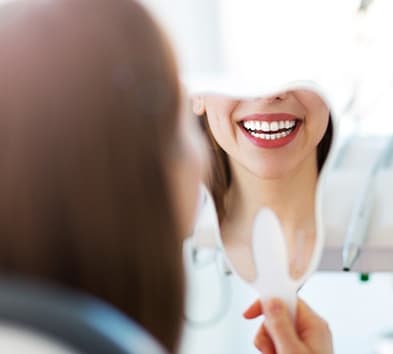 With so many cosmetic treatments to choose from, it can be difficult to know which one is ideal for you. Thanks to digital imaging software at our dental office, we can effectively simulate what your smile will look like following cosmetic care. Whether you're interested in teeth whitening, porcelain veneers, direct bonding, or a full smile makeover, our virtual smile design makes it easy to imagine the beautiful results before a single procedure is performed. Once you send our dental office a photo of your current smile, we'll upload it to the program and our cosmetic specialists will help you build expectations for your next treatment.
BOTOX/Dermal Fillers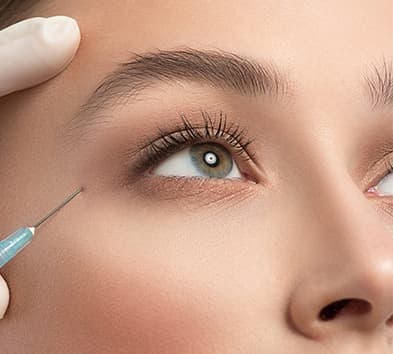 As a dentist, Dr. Martinez is trained to take your entire facial appearance into consideration when building your cosmetic treatment plan. With the help of BOTOX and dermal fillers, we can remove and prevent the future development of wrinkles, crow's feet, and other signs of aging. Each treatment is capable of lasting several months before needing any kind of retreatment. It's the perfect pair to your smile makeover!
Smile Makeovers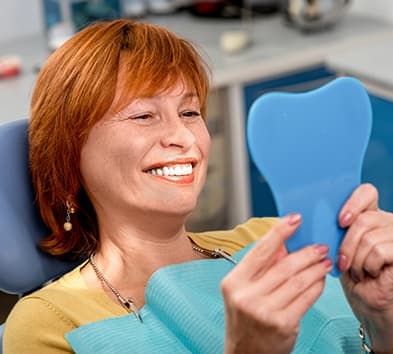 Many types of blemishes can appear in your smile, making it difficult to know exactly which treatment you need. However, Dr. Martinez understands that a single treatment may not be enough to meet your smile needs. During your cosmetic consultation, we'll break down the pros and cons of each of our treatments in order to help you build your unique makeover. Over the next few treatments, we'll slowly but surely help you achieve a smile that you feel confident showing off to friends and family.
Clear Aligners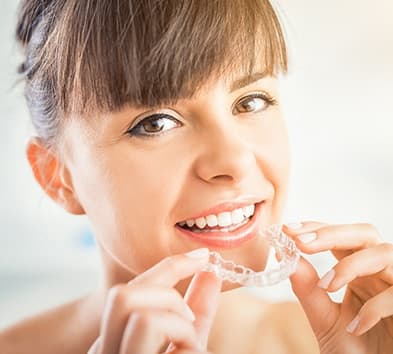 Even mildly crooked or misaligned teeth can make it difficult to smile and perform at-home oral care. However, many patients don't want to go through the process of wearing metal braces for a minimum of two years just to resolve their crooked smile. Through our digital impression system and Dr. Martinez's expertise, we can straighten your smile using clear aligner technology instead! Each pair of your clear aligners represents a new stage of your realignment. By wearing the aligners for about 22 hours per day over the next two weeks, then switching to the next pair in the series, you can achieve a straighter smile in less time overall compared to traditional orthodontics.
Cosmetic Dentistry FAQs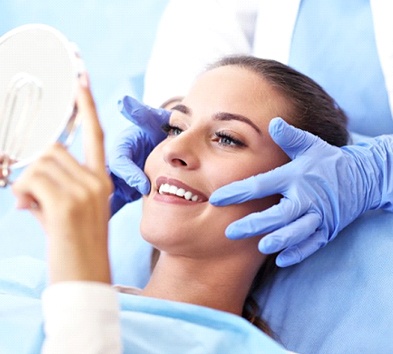 Thanks to advancements in modern dental techniques, cosmetic dentistry is no longer just for the rich and famous. With the help of our skilled dentists, you too can achieve the beautiful smile you've always longed for. If you still have any doubts about the various treatments that we use to improve your pearly whites, we've included this handy list of frequently asked questions about cosmetic dentistry. Feel free to give us a call if your question isn't answered somewhere on this page.
Can Cosmetic Dentistry Improve My Oral Health?
Although cosmetic dentistry is primarily focused on improving the aesthetic aspects of your smile, certain treatments can also give you better oral health. For example, metal-free restorations can protect teeth from sustaining damage that may require them to be extracted. Also, straightening your teeth with clear aligners can reduce your risk of teeth grinding and TMJ dysfunction as well as make practicing proper oral hygiene easier.
How Long Will It Be Until I See Results?
Your unique treatment plan, which is based on your smile goals, will determine how long you'll have to wait until you can show off your new and improved smile. Some treatments, like in-practice teeth whitening and dental bonding, can be completed in just one appointment. Others may take anywhere from a few weeks to a year or longer, such as with clear aligners. During your consultation, our dentists can lay out a more personalized treatment timeline and give you an idea of how long you can expect the process to take.
Can My Child Benefit from Cosmetic Dentistry?
Many parents aren't aware of this, but certain cosmetic treatments may be suitable for teenagers, including clear aligners, dental bonding, and clear aligners. In some cases, younger children may benefit from cosmetic services, such as dental bonding to heal a chipped tooth.
To find out whether cosmetic dentistry is right for your son or daughter, schedule a consultation with us today.
Will My Dental Insurance Cover Cosmetic Dentistry?
While every dental insurance plan differs, most carriers will not cover the cost of cosmetic dentistry. However, there are always exceptions. Some cosmetic services, such as clear aligners or dental crowns, might be deemed necessary to restore or improve your oral health and thus be at least partially covered by your insurance.
Our friendly team is more than happy to maximize the benefits you have available. For uninsured patients, or those who still need help paying for cosmetic treatment, we partner with CareCredit to finance your care with extremely low interest rates.
Is Cosmetic Dentistry Right for Me?
If you're unhappy with the way your teeth look, chances are you're a good candidate for cosmetic dentistry. In many cases, the only requirement is that your mouth is infection-free. Problems like gum disease and cavities must be addressed prior to beginning cosmetic treatment.
If you're ready to attain the gorgeous smile you deserve, contact our office today to learn whether cosmetic dentistry is right for you.