Replace Missing Teeth – Alexandria, IN
Replacing Teeth Doesn't
Only Help Your Smile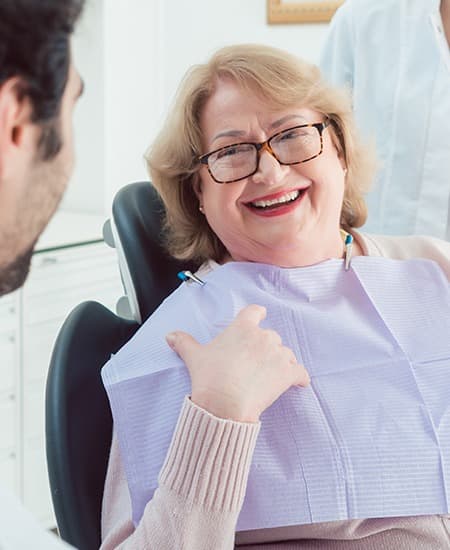 Even if you're missing just one tooth, it can have a significant impact on your daily life. At Martinez Dentistry, we offer multiple solutions to effectively replace missing teeth for Alexandria, IN dental patients. Whether you're missing a single tooth or you need to replace all the teeth along an arch, Dr. Martinez and his team can make it happen. Our lifelike materials and expertise are sure to meet all of your tooth replacement needs! Schedule an appointment today by giving our dental office a call!
Why Choose Martinez Dentistry to Replace Missing Teeth?
Implant Placement Available In-House
CEREC Ensures Crowns are Received the Same Day
Metal-Free Materials Utilized
What Happens if I Do Nothing?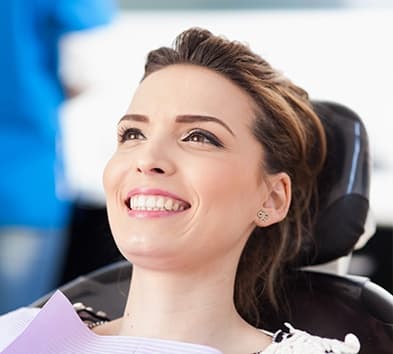 When teeth are missing, it causes a phenomenon known as "dental drift" to occur. Dental drift is when neighboring teeth begin to shift out of place and into the open space after a tooth is lost. This can lead to your smile becoming misaligned and your bite becoming uneven. As this process continues, oral care becomes more difficult, the risk of enamel erosion goes up as teeth rub up against each other, and more stress is put on your jaw as you chew. By replacing teeth, you prevent this problem as well as ensure many other restorative benefits.
Dental Bridges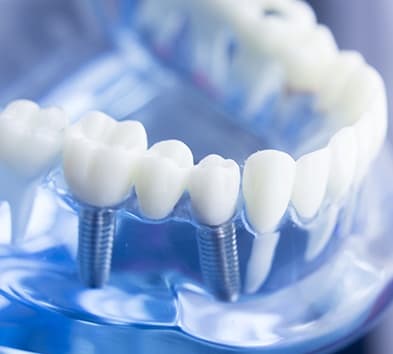 One of the most common forms of tooth replacement, dental bridges combine a series of dental crowns to bridge the gap in between teeth. Bridges typically use between three and four crowns total, with the crowns on either end being hollowed out so they can attach to existing teeth. Just like a traditional crown, a small amount of tooth enamel needs to be removed to hold the bridge. The crowns in the middle of the restoration are called pontics and fill the space left behind.
Learn More About Dental Bridges
Dentures & Partial Dentures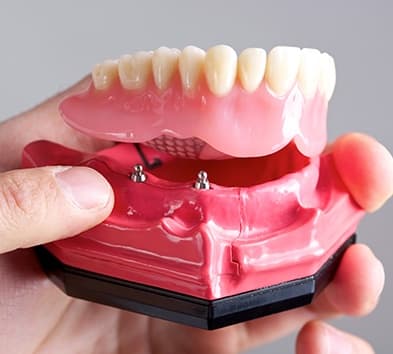 When several teeth are missing on opposite sides of your mouth or your entire arch is missing teeth, a full or partial denture can provide fast and affordable coverage. The dentures of today are significantly more natural-looking than in the past and they feel more comfortable than ever. Once we capture a detailed impression of your mouth, we can create a denture made with porcelain and acrylic materials to ensure the most lifelike restoration possible.
Dental Implants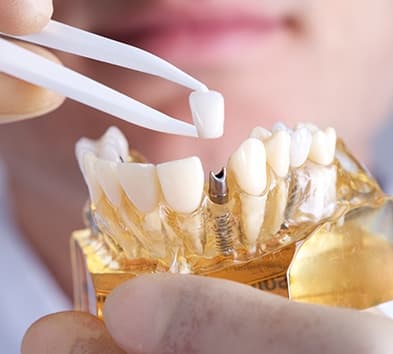 While other tooth replacement methods restore the crown portion of teeth, dental implants recreate the root structure of teeth as well. A dental implant consists of three main components: the titanium post, the restoration, and the abutment that connects them together. Once the implant has integrated with your existing bone and gum tissue, you can expect restorative benefits that you won't find with other treatments. This includes a stronger biting force, restored blood flow, and reduced signs of aging.