Implant Dentures – Alexandria, IN
Secure Your New Teeth with Dental Implants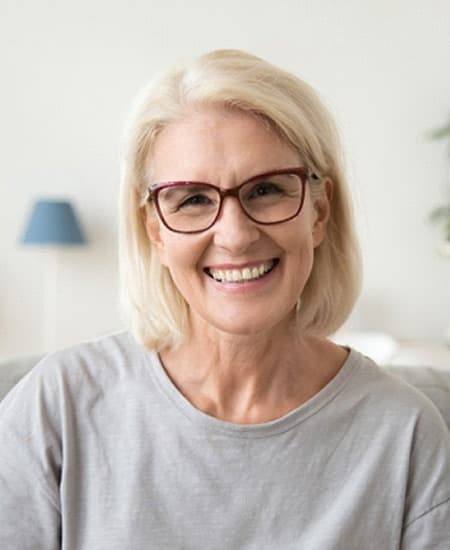 You never expected it to happen to you, but you're one of the 40 million Americans who have lost all of your upper and/or lower teeth. Like many people, you probably chose to replace your teeth with a traditional denture. Despite your expectations, your new smile didn't give you the results you wanted. You're not out of options, though; you can enjoy the next best thing to your real teeth with implant dentures in Alexandria, IN. At Martinez Dentistry, we can secure your new teeth with dental implants, saving you from worrying about slippage or gum irritation. Call us today to get started!
Why Choose Martinez Dentistry for Implant Dentures?
Dental Implants Placed & Restored In-Office
I-CAT CT/Cone Beam for Precise Treatment Plans
High-Quality Materials for Durable, Lifelike Smiles
What Are Implant Dentures?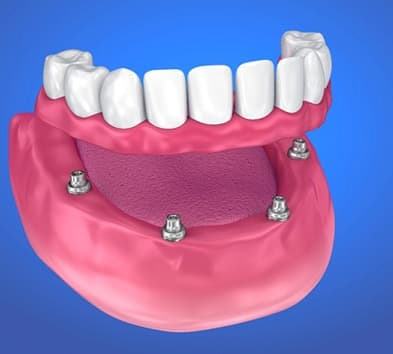 A traditional denture is created from an impression of your mouth, which attaches to your gum tissue using suction or an adhesive. Several improvements over the years have enhanced their appearance and function, but they will always have their limitations.
For a more stable solution, we can secure your denture onto dental implants , which are artificial tooth roots that are anchored in your jawbone. You have two options in terms of which type of implant denture to get:
Fixed/Permanent Implant Dentures
A fixed implant denture stays in your mouth at all times, except when an implant dentist in Alexandria removes it. As a result, your teeth can be brushed and flossed like natural ones. To stabilize a permanent implant denture, an average of four to eight implant posts must be placed throughout the jaw.
Removable Implant Dentures
When an implant denture is designed to be removable, it generally doesn't require as many implants for support; two to five are usually enough. So, patients with less jawbone density might preferable this option. You can also take your prosthetic out for daily cleaning, which many patients prefer.
The Implant Denture Process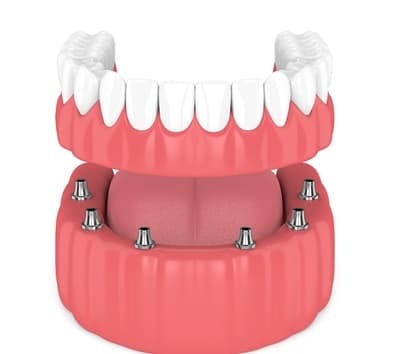 The process of receiving implant dentures will involve several steps over multiple months. Although it may take longer to rebuild your smile with this method than with a conventional denture, it's time well spent because dental implants in Alexandria can potentially last for a lifetime. Plus, our team can complete the entire process under one roof thanks to Dr. Martinez's skills and experience.
After you've healed from any previous treatments, Dr. Martinez will surgically place the implants into your jawbone. These posts stimulate new bone growth, so your jawbone fuses to them over the next three to six months through a process called osseointegration. Once this process is complete, special fixtures are attached to each post to connect your custom-made denture.
Am I a Candidate for Implant Dentures?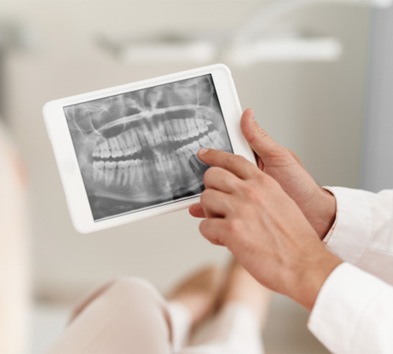 If you've lost all of your natural teeth in one or both arches, you may be a candidate for implant dentures. Generally, if you have good oral and general health, you're a candidate for the treatment; however, you'll need a thorough consultation to ensure it's the right option for you.
Besides a visual examination, we also take a CT scan to look for any potential concerns that may be brewing beneath the surface, like an infection in the gums. Based on the result of the examination, you may need additional treatments to become a candidate for an implant denture, such as bone grafting in the jaw.
Benefits of Combining Dentures & Dental Implants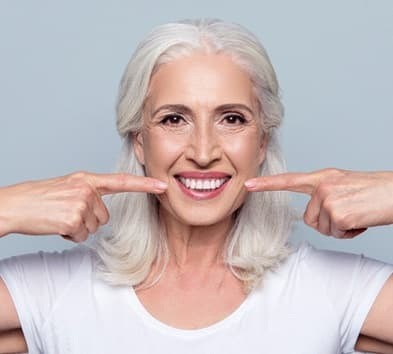 An implant denture does more than replace the crowns of your teeth. It also replaces the roots. As a result, you'll enjoy a variety of benefits that aren't possible with a traditional denture, including:
Over a 95% success rate.
Restore 70% of your biting force.
Looks natural.
Eliminates slipping and irritation.
Preserves your jawbone's density.
Supports your facial tissues.
Easy maintenance and care.
Cost-effective solution that can last for 30+ years with the right care.