Dental Implants — Alexandria, IN
The Answer to Comprehensive Tooth Replacement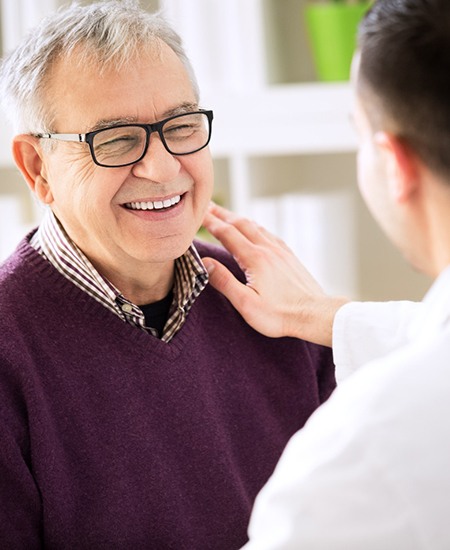 Replacing missing teeth is incredibly important to your long-term oral health, but did you know that the way in which you replace teeth matters as well? Dentures and bridges can effectively fill the gap that's leftover in your smile, but that doesn't mean they replace your missing tooth entirely. The only solutions that replace the entire tooth are dental implants, and for that reason, we recommend this option to many patients suffering from tooth loss. To learn if dental implants in Alexandria, IN are right for you, feel free to give our dental office a call!
Why Choose Martinez Dentistry for Dental Implants?
Dental Implant Placement and Restoration Performed In-House
I-Cat CT/Cone Beam Scanner for Enhanced Treatment Planning
Implant Dental Crowns Created via CEREC Technology
What Are Dental Implants?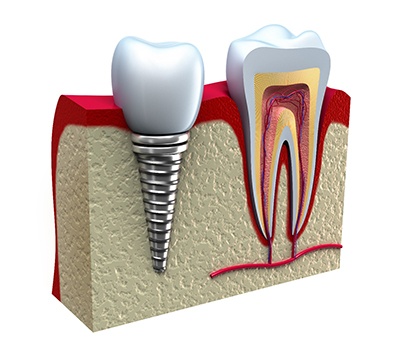 Dental implants are unlike any other tooth-replacement solution on the market. While they are known for the amazing benefits they come with, many people aren't familiar with them until they see a dentist to replace a tooth. They consist of a titanium post that integrates with the jaw, a restoration (either a crown, bridge, or denture) that attaches to the top, and an abutment (or connector) that provides the restoration stability. Once placed, you can expect a long-term solution for your tooth loss as well as multiple oral and overall health benefits that aren't possible with other treatments.
The Dental Implant Process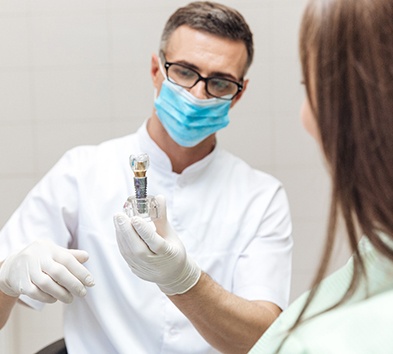 When it comes to tooth replacements, dental implants are considered to be the superior, state-of-the-art solution. After all, they are widely praised for their lifelike appearance, unmatched durability, and ability to recreate the entire tooth from root to crown. With that said, many patients are unaware of the process itself, which is a very important component in deciding whether dental implants are right for you. Read on to learn about how dental implants work or contact our office to schedule your appointment!
Initial Consultation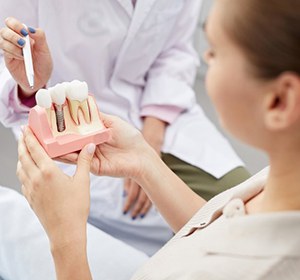 Your journey to a full, healthy, and complete smile will begin at your initial consultation. During this appointment, our team will get to know you a bit better, discuss your medical history, and conduct a thorough dental exam. This will allow us to determine if you are a good candidate for the procedure. Don't worry though – if you initially don't meet the requirements (due to a complication like gum disease or extensive bone loss), we can work the appropriate restorative care into your treatment plan so you can safely achieve your smile goals.
Start-to-Finish Convenience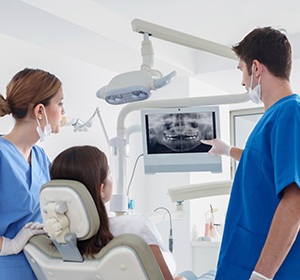 Many dentists will require their patients to travel to offsite dental offices for implant placement because they don't have the expertise to perform the surgical portion of treatment. This can make the whole process of receiving dental implants more time-consuming and less convenient. When you visit Martinez Dentistry, you can have every step of your treatment performed all in one location. We believe this makes the overall process easier and improves communication between doctor and patient.
Dental Implant Surgery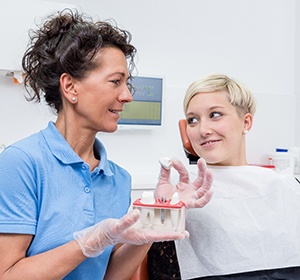 Once we've determined that you are a good candidate, it's time to schedule your implant placement surgery! To ensure you are completely comfortable during the entire process, we will use sedation or anesthesia before beginning. When you are completely relaxed, we will open your gum tissue to access your jaw. From there, small holes will be created in specific locations in your bone, the titanium posts will be inserted, and the gum tissue will be stitched closed again.
Immediate Dental Implant Placement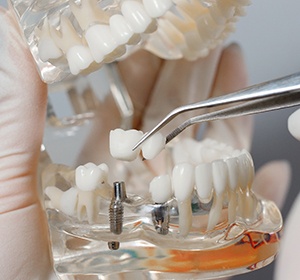 Do you need to have a tooth extracted? The good news is you do not have to go without your missing tooth for very long. Since bone tissue can begin to deteriorate as soon as a tooth is extracted, we want to do everything possible to retain that material. By performing immediate implant placement following an extraction, we can help you maintain your biting force, blood flow, and your smile's appearance all at the same time.
Osseointegration & Abutment Placement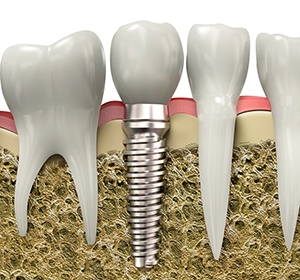 Following your procedure, priority number one is healing. During this time, the dental implant posts and your jawbone will fuse together in a process called osseointegration. This is the secret to the stable foundation and unmatched durability dental implants are known for. Once this process is complete, special fixtures (called abutments) will be placed onto your posts through a second minor procedure.
Delivery of Final Restoration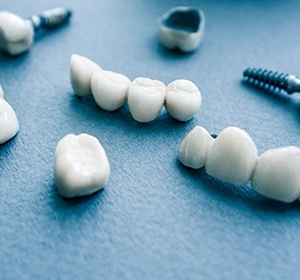 When the abutments are securely anchored in place, your gum tissue will be left alone to heal before the final step: attaching the restoration. To make the process as seamless as possible, your dental crown, bridge, or denture will be meticulously crafted to your exact specifications as you recover. Once you are healed, it will be attached to the post and your smile, bite, and speech will be restored!
Want to learn more about the process of getting dental implants? Ready to schedule your appointment? Either way, our team is here to help. Don't hesitate to contact our office today!
Benefits of Dental Implants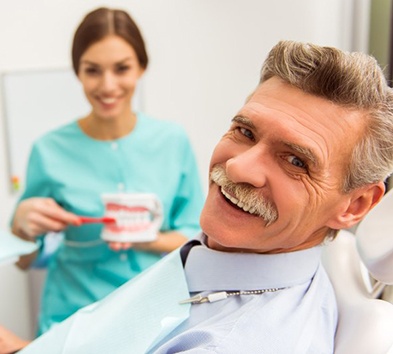 By filling those spaces in your smile with dental implants, you can rebuild your smile with the next best thing to your natural pearly whites. Unlike any other option for replacing missing teeth, implants recreate the entire structure of a lost tooth, offering countless advantages over alternative treatments. Below, we've outlined just a few of the numerous benefits of dental implants.
Replacement Teeth That Look and Feel Natural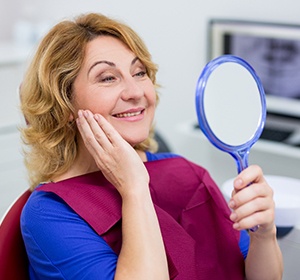 The implant posts are made of titanium, a highly biocompatible material. Once they've been placed, they actually fuse to your jawbone, creating a sturdy bond that feels natural and prevents slipping or irritation. It also restores the majority of your chewing power, allowing you to enjoy a diet of healthy crunchy foods like apples.
Your implants will be topped with a restoration, whether that be a crown, bridge, or denture. Each restoration is custom-made to resemble the teeth you were born with. Besides our dental team, no one should be able to tell the difference between your implants and your natural teeth!
High Long-Term Success Rate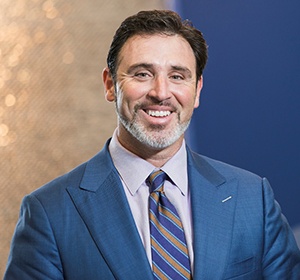 Because of the powerful bond created by osseointegration, dental implants have a success rate of over 95 percent. With the right aftercare, they can even last for decades. Maintenance is actually fairly easy; simply brush, floss, and attend dental checkups and cleanings as you normally would.
Cost-Effective Solution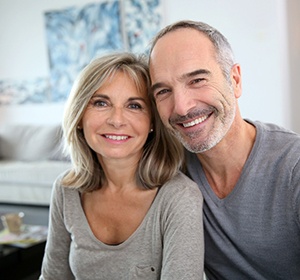 While traditional bridges and dentures may have a lower initial cost, dental implants can actually save you money in the long run. Other options must be repaired or replaced every 5-10 years. Since dental implants can last a lifetime, you'll save quite a bit of money (and time) by not needing frequent replacements.
Improved Oral Health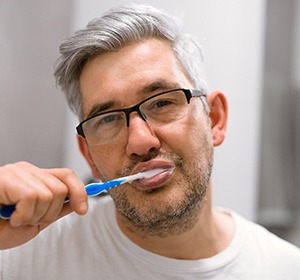 Missing even one tooth can jeopardize your oral health. It puts you at an increased risk for cavities, gum disease, and further tooth loss. Not to mention, your surrounding teeth might drift out of place. Dental implants eliminate these risks and keep your teeth in their proper positions.
Youthful Appearance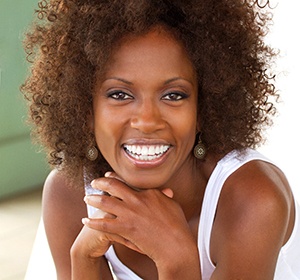 When teeth are lost, the roots are no longer there to stimulate your jawbone, causing the bone to shrink over time. As a result, it can no longer adequately support your facial muscles, leading to premature dropping and wrinkling. Dental implants stimulate your jawbone in exactly the same way that natural tooth roots do. They'll keep your bone strong enough to help you look younger for years to come.
Who Dental Implants Can Help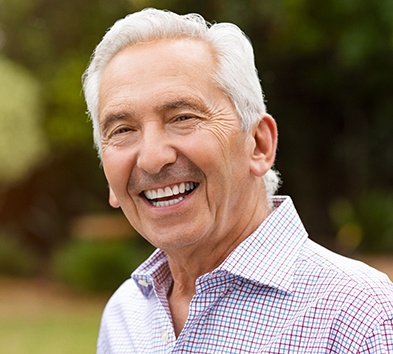 Dental implants are one of the most versatile forms of tooth replacement available to date because of their ability to replace varying amounts of missing teeth. Below, you'll learn exactly how Dr. Martinez makes it happen!
Missing One Tooth
To replace a single tooth, one implant is placed inside of the jaw and given time to heal. Once fully integrated, we'll restore the implant with a porcelain crown. The crown is attached via an abutment, which is a connector that keeps the restoration stable. All implant restorations are made with porcelain to ensure natural esthetics and durability.
Missing Multiple Teeth
Instead of removing tooth enamel to accommodate a dental bridge, we can easily use a pair of dental implants to hold a bridge customized to attach to implants. If you want to retain as much natural tooth structure as possible while replacing one to two teeth, implant bridges are likely for you.
Missing All Teeth
If you are missing all the teeth in your arch or several teeth on opposing sides of your mouth, you can receive a denture that is anchored into place over dental implants. That means you no longer have to worry about using denture adhesive and you can eat the foods you enjoy without any concern about your denture shifting out of place.
Understanding the Cost of Dental Implants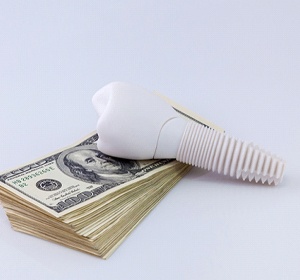 You might have heard dental implants come with a hefty price tag, but they aren't unaffordable. Although you will pay more for them upfront than traditional prosthetics, they can be the most cost-effective option because they never need to be replaced with the right maintenance. Since every situation differs, there's not a set rate for the procedure; however, we strive to keep the cost of dental implants in Alexandria within everyone's budget.
Preliminary Treatments & Dental Implant Surgery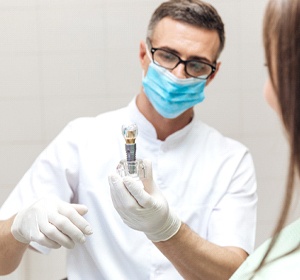 Your first step to a complete smile involves scheduling your dental implant consultation. Your implant dentist in Alexandria will examine your mouth, learn more about your medical history, and review a CT scan of your oral structures to ensure you are a candidate. Based on the results of your consultation, they'll create a personalized treatment plan to provide you with an estimate, which can include:
Prep Work: It's not uncommon to need preparatory procedures, like tooth extractions or gum disease treatment.
Placement Surgery: Sedation or anesthesia is used to keep you comfortable while the implant posts are placed into the jawbone.
Number of Teeth: The more teeth you need to replace, the higher your estimate.
Materials: High-quality materials may cost more, but they often last longer.
The Parts of Your Dental Implant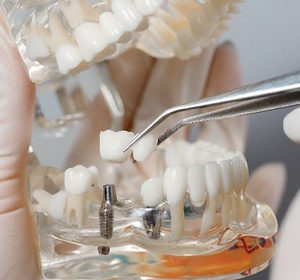 A dental implant is unique because it recreates both the root and the crown. Depending on the number of teeth you're treating, you can expect to pay for:
Implant Posts
Abutments
Restorations
We will explain exactly how much your new smile will cost and your payment options, so you won't be surprised by any sudden fees.
How Dental Implants Can Save You Money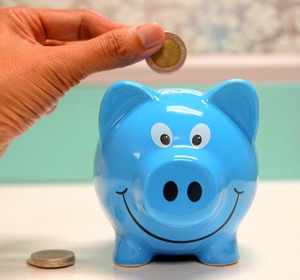 Dental implants are the most reliable method of treating tooth loss because they can last for 30 years or longer. You will never have to worry about paying for replacements with the right maintenance. Not to mention, dental implants in Alexandria are the only solution that stops bone loss associated with missing teeth. As a result, it prevents common issues caused by tooth loss to lower your long-term oral health expenses.
Does My Dental Insurance Cover Dental Implants?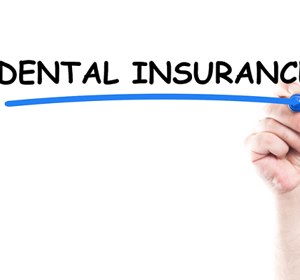 It's unlikely your dental insurance will pay for the entire procedure, but you can use your benefits to offset the amount you'll pay. You can use your coverage to lower the cost of certain steps in your treatment, like the consultation, imaging, prep work, or restorations. A member of our team will work on your behalf to maximize your annual coverage to keep your new smile within your budget.
Making Dental Implants Affordable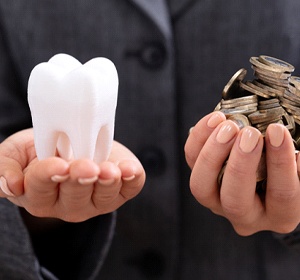 Besides using your dental insurance, our office provides various financial solutions, including:
Traditional Payments: We accept all forms of traditional payments, including cash, checks, and credit cards.
Third-Party Financing: Pay for your procedure using monthly installments through a third-party financing company, like CareCredit.
We will discuss all options to pay for dental implants to make a wise investment for your smile. If you have any questions about your payment options, or you are ready to schedule your consultation, contact our office today.
Dental Implant Technology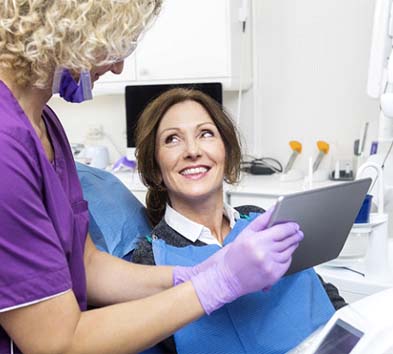 Here at Martinez Dentistry, we pride ourselves on offering the latest and greatest in dental technology. When it comes to advanced procedures like dental implant placement, these leading-edge instruments allow Dr. Martinez to ensure safe, comfortable, and precise treatment. Dental implants already have an incredibly high success rate, but here are some examples of how we maximize the chances of healthy, long-lasting replacement teeth with dental implant technology in Alexandria.
3D Cone Beam Imaging/3D CT Scanning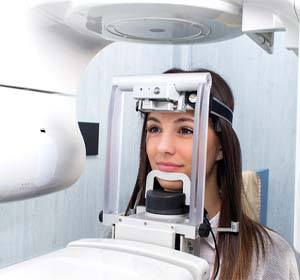 Dental implant placement must be extremely precise in order to be successful, and traditional X-rays don't give us an accurate enough image of your mouth and jaw. That's where our I-CAT CT/Cone Beam scanner comes in. This device captures a fully panoramic view of all of your oral structures, including the nerve pathways and sinuses. It then creates a three-dimensional model that lets us expertly plan your procedure to take advantage of the densest areas of the jawbone while avoiding delicate nerve tissues.
Guided Dental Implant Surgery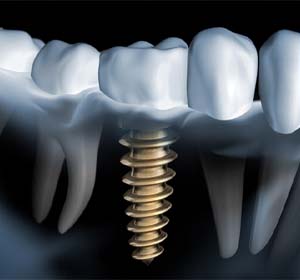 The cone beams scans also prove invaluable during the surgery itself. Using these scans, our computer software generates a surgical guide that ensures we insert the implant in exactly the right location and angle. Compared to free-handing dental implant surgery, our computer guides are much more precise and usually require smaller incisions. Therefore, you can expect less post-op bleeding, swelling, and discomfort as well as a generally faster healing process.
Soft Tissue Laser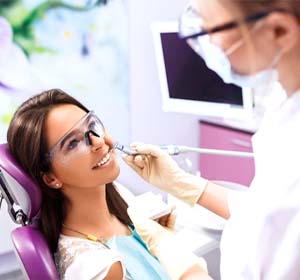 Instead of scalpels and other traditional surgical instruments, Dr. Martinez can use a soft tissue laser as part of your dental implant surgery. This device emits a highly concentrated beam of light energy in order to create incisions in the gums and position the implants into your jawbone. Not only does the laser give Dr. Martinez greater control over the depth and extent of the incisions, but it also sterilizes the cauterizes the area being treated. As a result, you'll have a lower risk of infection after your procedure and an overall smoother recovery.
Digital Impression System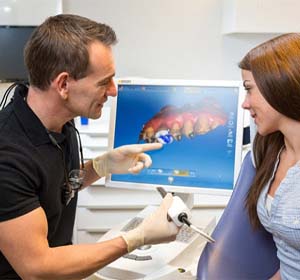 To design the crown, bridge, or denture that goes on top of your implants, we'll need to take impressions of your mouth. This used to involve the dentist pressing a tray filled with uncomfortable putty into your mouth and holding it there for some time. Thanks to our digital impression system, that is no longer necessary! Instead, we maneuver a small, pen-like device into your mouth, which captures highly detailed images within seconds. Additionally, digital impressions tend to be more accurate, meaning they look and feel almost exactly like your natural pearly whites.
Dental Implant Failure & Salvage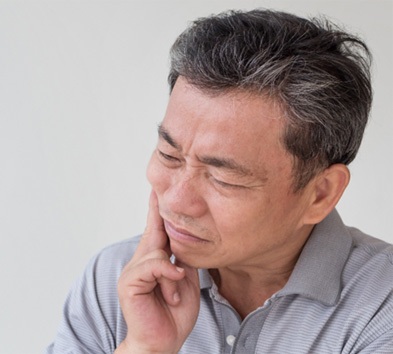 Thanks to the advanced training of our team and the state-of-the-art equipment we use, your dental implant has a 95% or greater chance of lasting a lifetime. Nevertheless, it's important to be aware of the signs of dental implant failure and what to do should you notice them. If your dental implant ever feels loose or sensitive, or if the gums around it are tender and swollen, please call us right away. If your dental implant is failing, we may be able to restore it with a dental implant salvage technique.
Dental Implants Post-Op Instructions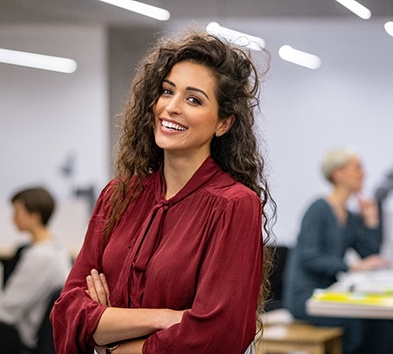 Dental implant placement requires surgery, so your mouth and jaw will need some time to heal after the procedure. Our team will give you a list of post-op instructions to make your recovery as speedy as possible. The instructions you receive may be somewhat tailored according to your unique situation; with that in mind, here are the basics of what you can normally expect during the recovery process and what steps you should take to stay comfortable.
What to Do Directly After Dental Implant Surgery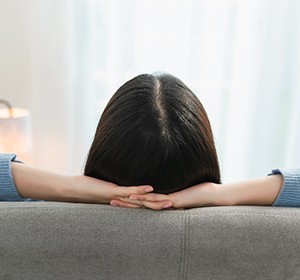 Your biggest focus right after your surgery should be protecting the blood clot that has formed around the implant site. If this blood clot is disturbed, the healing process might be disrupted. To make sure the blood clot stays where it needs to be, remember to:
Use a tissue or swallow excess saliva instead of spitting.
Avoid using straws.
Keep your fingers and tongue away from the implant site.
Stop smoking after your surgery.
Common Side Effects When Recovering from Dental Implant Placement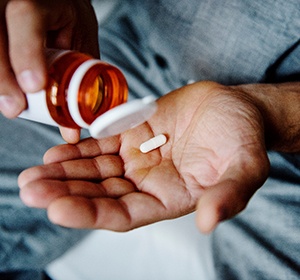 You're likely to notice a few mild side effects during the first few days after receiving your dental implants:
General Discomfort: Your mouth may be somewhat sore during the initial stages of recovery. Taking ibuprofen and similar over-the-counter medications can help.
Swelling: Some swelling might occur over the first 72 hours; in some cases, it can last for over a week. You can reduce swelling by holding a warm or cold compress over the area.
Bleeding: You might notice some gradual, intermittent bleeding for a few days. You can lessen the bleeding by applying light pressure to the area with gauze.
If it seems like the symptoms listed above are growing worse or lasting longer than they should, let us know right away.
Your Diet After Dental Implant Surgery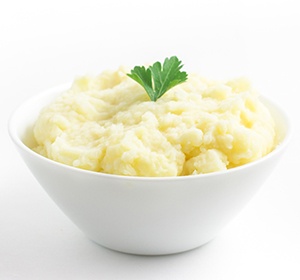 It's important to be gentle on your mouth for the first few days following implant surgery. Your diet during this time should consist of softer foods like mashed potatoes, yogurt, scrambled eggs, and pasta. You can switch back to your normal diet once the discomfort in your mouth has faded. However, you still shouldn't chew directly on the dental implant site until you've received your restoration.
Post-Op Health & Oral Hygiene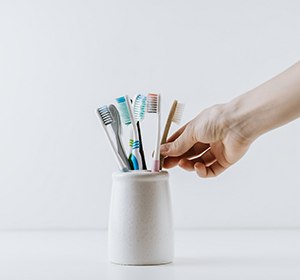 You may brush your teeth the day after your implant surgery. That said, you don't want to disturb the implant site, so be very careful when brushing around that area. Also, we recommend rinsing with salt water two or three times a day, ideally after meals; doing so can help reduce harmful bacteria levels in your mouth.
What to Do After Your New Teeth are Attached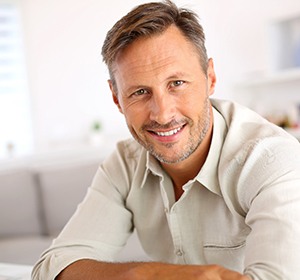 Placing a restoration on your dental implant post(s) is the last step of the implant process. Some minor sensitivity may occur, so take pain medication to manage it if you need to. There should not be any swelling or bleeding at this point; if such side effects occur, please reach out to our office right away.
Dental Implant FAQs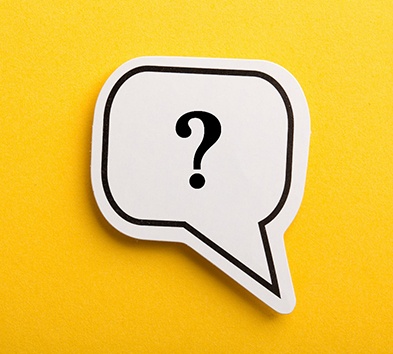 As you have likely figured out already, dental implants are a huge investment in the future of your smile. You should be as informed as possible before making the decision to replace your missing teeth in this manner. To help you out, we have gathered some of the dental implant questions that we receive most often and answered them below for your convenience. If you have a question about implants that you don't see here, feel free to contact our office and ask.
Why do I need a bone graft?
When you've been missing teeth for quite some time, your jawbone gradually begins to shrink due to it no longer receiving stimulation from the roots of your teeth through biting and chewing. As a result, your jawbone is not strong enough to support implants. To remedy this, we can graft artificial bone tissue onto your jawbone. Then, over a few months, this material will fuse with your jawbone until it can adequately support as many dental implants as you need to restore your smile.
I smoke. Can I get a dental implant?
It's possible, but there are also more risks involved than in nonsmokers. For example, smokers are more than twice as likely as nonsmokers to develop gum disease, which compromises the success of your implants. Additionally, tobacco use severely hinders your oral healing abilities. Osseointegration, the process by which your implant becomes one with your jawbone, is less likely to successfully occur. This may cause your body to reject the implant. If you're considering getting dental implants, we highly suggest you quit smoking before doing so.
I'm diabetic. Can I get a dental implant?
Yes, but like with smoking, there are some risks involved, especially if your diabetes is poorly managed. Uncontrolled diabetes can impair your body's ability to fight off infections. It also increases your chances of developing gum disease. Both of these factors can contribute to dental implant failure. If you're thinking of getting dental implants, we recommend first talking to your primary care physician or endocrinologist about getting your blood sugar levels under tight control.
Can I return to work after implant surgery?
The answer to this question depends on the complexity of your implant situation. If you're only getting one implant placed and only undergoing nitrous oxide sedation, you may be able to resume your day as normal after your procedure. However, if you're receiving several implants at once and undergoing a more severe form of sedation, we suggest taking at least two or three days afterwards to rest.
Maintaining & Caring for Your Dental Implants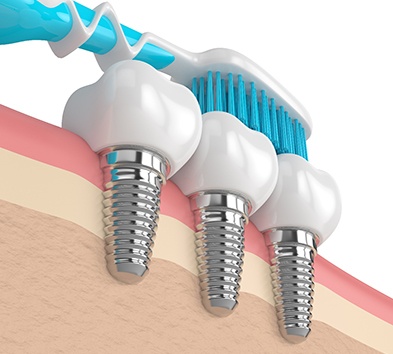 Dental implants offer countless benefits, but one of the most valuable ones is that they can last for several decades with the proper maintenance. As a result, they're an incredibly cost-effective tooth replacement solution compared to traditional dentures, which typically last for seven to ten years at most. Of course, the best way to make the most of your investment in your smile is to practice great dental implant care in Alexandria. This is easy if you keep these five tips in mind!
Make Oral Hygiene a Priority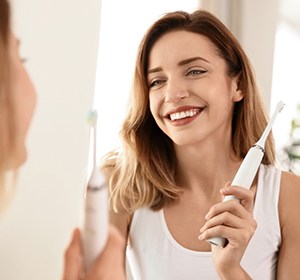 Even though your prosthetic teeth won't get cavities, it's still important to practice daily oral hygiene. Your gums provide a strong, stable foundation for your implants, which is why it's crucial to prevent them from becoming infected or damaged. When you brush twice and floss once each day, you can minimize the buildup of plaque, thereby reducing the risk of gum disease – the number one reason why dental implants fail. Luckily, brushing and flossing with dental implants in Alexandria is, in most cases, exactly the same as cleaning natural teeth.
Eat a Healthy Diet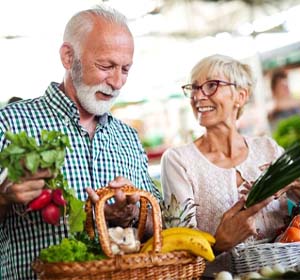 Feel free to eat a varied diet with dental implants; after all, they make chewing just as easy as it was with your original teeth! With that being said, indulging in too many foods that are particularly sugary, sticky, or hard can cause problems. Namely, you run the risk of developing gum disease or loosening or damaging your implant restorations. Such foods are fine in moderation, but be sure to include plenty of nutritious fruits and vegetables in your diet. In particular, vitamin C can promote healthy gums and calcium can strengthen the jawbone, creating an ideal environment for your implants to thrive.
Break Bad Habits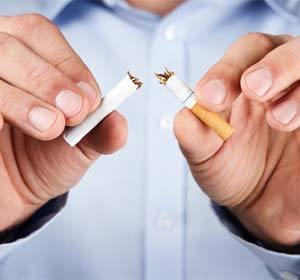 In addition to the numerous consequences for your overall health, smoking (or chewing tobacco) is one of the most harmful things you can do for your dental implants. Tobacco impairs the body's healing rate and immune response, making it difficult to fight off infections like gum disease, which could put your implants at risk. Try to also avoid habits that could chip or break your restorations, such as nail-biting and chewing on ice.
Protect Your Dental Implants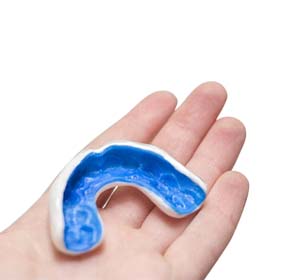 Just like with natural teeth, it's important to wear a mouthguard if you participate in contact sports or grind your teeth while you sleep. Without a mouthguard, these activities can drastically increase your risk of breaking, chipping, or cracking one of your replacement teeth, leading to dental implant failure. To keep your smile looking and feeling as good as new, ask our team whether you could benefit from a custom-fit nightguard or athletic mouthguard, which are more durable and effective than over-the-counter devices.
Schedule Regular Dental Checkups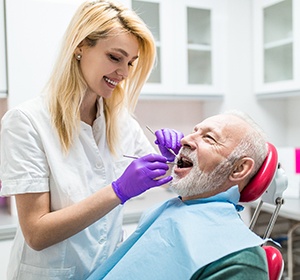 Keeping up with your routine checkups and cleanings is crucial when it comes to the success of your dental implants. During these visits, your implant dentist in Alexandria will closely examine your mouth to make sure that your implants (as well as your gums and any remaining teeth) are still healthy and functioning properly. If there is an issue lingering beneath the surface, regular exams will allow our team to diagnose and treat it before it has the chance to wreak serious havoc.