July 16, 2020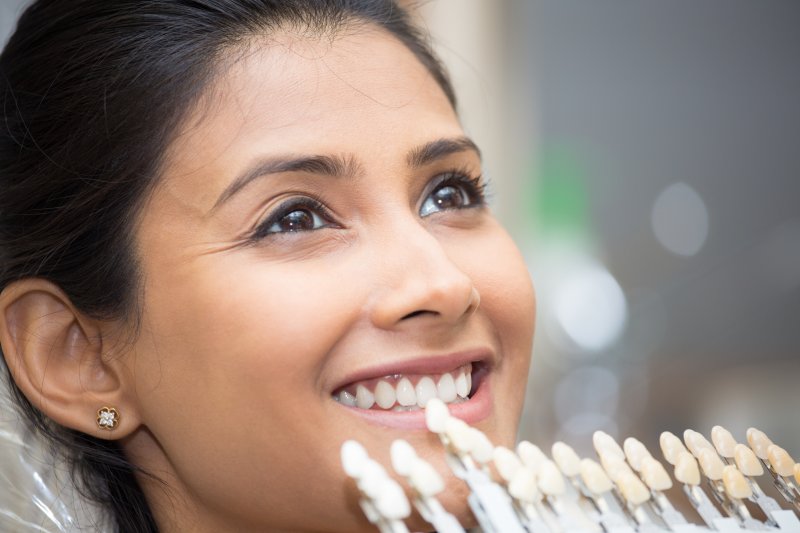 When you're watching films and TV shows, you may have noticed that many of the leading actors and actresses have a beautiful, bright white smile. However, very few people are just born with this. In fact, there's many different ways that you can make progress when it comes to having a whiter smile. Continue reading to learn more about options like teeth whitening and porcelain veneers that can give you a smile that you will be proud to show off.
Zoom! Teeth Whitening
In-office teeth whitening is a great option for those who want noticeable results in a timely manner. The entire process only takes up to an hour. First, your dentist will cover your lips and gums to protect them from the bleaching gel. Next, he will apply a hydrogen peroxide-based whitening gel to your exposed teeth. It will be activated by a special light to break apart stains and discoloration. Before you leave, your dental team will apply a sensitivity-reducing fluoride gel to your teeth.
Porcelain Veneers
These are very popular amongst celebrities because of their incredible results. Veneers are thin, strong shells that are custom-made from dental porcelain to cover the front surface of your teeth. They can fix small cracks, chips, gaps, and discoloration all at once. Whether you just want to fix one tooth or your whole smile, your dentist can create a custom treatment plan for you. One of the best things about it is that veneers don't become discolored over time. Your dentist will choose the perfect shade for your smile and it will stay that way for years to come.
Electric Toothbrush
Even though ordinary toothbrushes are more than competent of keeping your smile healthy if they are used correctly, their success relies completely on your brushing technique. Their electric counterparts make keeping your teeth clean much easier. Many of today's electric toothbrushes have particular settings to cut down on surface stains and whiten teeth over time.
Whitening Toothpaste
Next time you're at your local drug store, look at the whitening toothpastes. However, be sure to check out the ingredients that it contains. Most of them use slightly abrasive agents to remove stains. Only use a small amount at first to ensure that it doesn't cause irritation in your mouth.
Straws
If you've been known to enjoy dark-colored beverages like coffee, tea, and wine, you probably know that they cause staining over time. By using a straw, you are limiting the contact that the liquid has with your teeth and can stop stains before they even start!
You don't need to be incredibly wealthy or famous to have a beautiful, white smile. Having brighter teeth starts off with your routine at home. If you are looking for help from your dentist, in office teeth whitening or dental veneers could be a great option. You'll be proud to show off your smile in no time!
About the Author
Dr. Corey Martinez is a dentist serving patients in Alexandria, IN and surrounding communities. He earned his doctorate from the Indiana University School of Dentistry. He is a member of numerous professional organizations including the American Dental Association and the American Academy of Cosmetic Dentistry. Dr. Martinez offers in-office teeth whitening and porcelain veneers at his practice. For more information or to schedule an appointment, visit his website or call (765) 724-7729.
Comments Off

on How Do Celebrities Get Such White Smiles?
No Comments
No comments yet.
RSS feed for comments on this post.
Sorry, the comment form is closed at this time.